I spend a lot of my time in the kitchen. I also spend a lot of my time spilling things. When you combine those two hobbies, a need for a good apron develops rapidly. I've been scouring the interwebs for a new apron lately because I think the one I have currently needs to be washed more often than it actually is. So I'm searching for a backup apron.
Here's a few contenders:
I love half aprons... my lower half seems to be where all my spillage lands anyway. Here's an awesome (albeit a bit pricey) double sided one from etsy seller
Zakkanouveau
a pocket!
And here's one from
Double Merrick
that proclaims my one true love. I also love the strap placement on this guy (I found this one on
svpply
... sadly it's currently sold out)
Anthropologie
tends to have a good selection of aprons too, though I find that generally speaking they're either a bit fancy or too long for my tastes. Here's a cute one that would be great for spring.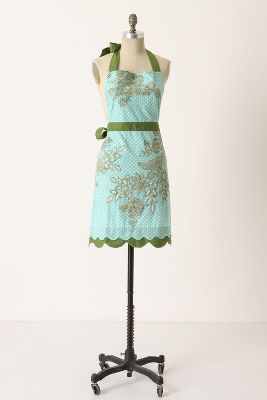 Finally, there's this
one
. Decently priced and made from easy-to-care-for linen, this half apron looks long enough to catch most of my mishaps and still be somewhat fashionable.
So? What say you? Fancy or meat-tastic? Whole body or half apron? Or do you just not care because its a stupid apron that is destined to be spilled all over and I should just pipe down and get back to work? Oh... ok then. Later...